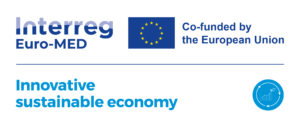 Dialogue4Innovation is the Institutional Dialogue project funded by Interreg Euro-MED Programme and coordinated by Emilia Romagna Region. The seven-year project has a budget of around 4 million euro and falls under the programme's Mission "Innovative Sustainable Economy".
The project aims to support mission-oriented innovation policy and the creation of long-lasting conditions for a permanent dialogue on innovation in the Mediterranean. Dialogue4Innovation will work to increase the coordination, coherence and alignment of policies and actions for innovative sustainable economy at the basin scale.
Capacity building is one of the pillars of the project, which will develop tools to increase the capacity of policy makers and stakeholders to address the Sustainable Development Goals more effectively. By working with territorial actors through Transformative Innovation Policy Labs, the project will promote the diffusion of more systemic and integrated approaches, which are necessary to tackle the urgent challenges of the ecological transition.
Dialogue4Innovation will contribute to improve the long-lasting conditions for a permanent institutional and social dialogue in the Mediterranean, bridging the transnational dimension with local solutions. It will become a reference platform for Mediterranean innovation ecosystem stakeholders aimed at fostering an open, inclusive, and effective governance, increasing the visibility and relevance of the Mediterranean instances at the European and international levels. To amplify its impact, the project will support Mediterranean challenge-driven multi-actor alliances. To meet its objectives, it will build on the outcomes of the Interreg Euro-MED thematic projects, narrowing the gap with the policy priorities (at local, regional, national, Mediterranean & European level) and promoting their integration in structural policies and practices.
Coordinator: Emilia Romagna Region
Partners:
– Ministry of Regional Development and EU Funds of Croatia
– Adriatic Ionian Euroregion
– ARC-MedWaves
– Generalitat de Catalunya
– Directorate for European Integration of the Council of Ministers of Bosnia and Herzegovina
– Open Space Ltd.
– ADEME – Agency for Ecological Transition
– Conference of Peripheral Maritime Regions of Europe
Total Project Budget: € 4.000.000,00
Programme: INTERREG Euro-MED
Project Duration: 1 January 2023 – 31 December 2029
Website: Coming soon
Contact Person: Andrea Di Girolamo – a.digirolamo@adriaticionianeuroregion.eu
Project co-financed by the European Regional Development Fund of the European Union