La Conferenza Internazionale di medio termine verrà organizzata dal progetto BleuTourMed a Roma il 29-30 maggio 2018. E' il primo evento di capitalizzazione della Comunità MED sul turismo sostenibile.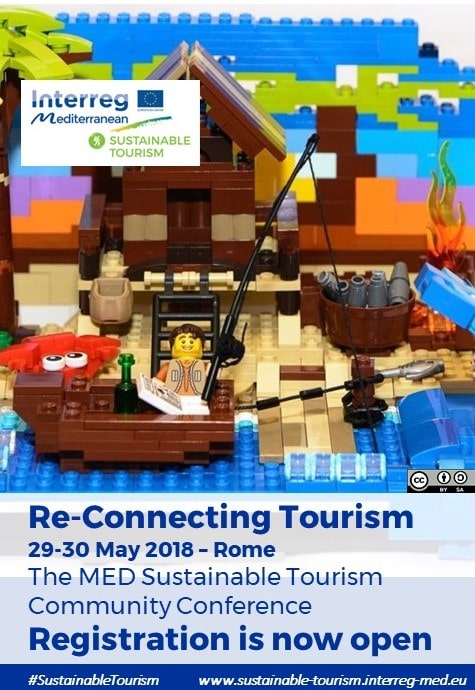 L'obiettivo dell'evento è quello di presentare lo stato di avanzamento dei progetti MED della comunità sul turismo sostenibile e di preparare e discutere i primi input che arriveranno dai singoli progetti su temi quali l'adeguatezza dei processi di monitoraggio e delle pratiche di gestione per migliorare la sostenibilità dei modelli turistici. Altro obiettivo è quello di influenzare i responsabili politici trasferendo i risultati acquisiti dai singoli progetti modulari e fornendo loro raccomandazioni di tipo tecnico e politico.
La conferenza è organizzata in 3 pannel:
Panel 1 – Monitoring the sustainability of tourism: what are the knowledge gaps of policy-making processes? How to bridge the data gaps on tourism?
Panel 2 – The mass « sea-sand-sun » tourism model and its related pressures in the Mediterranean region: an integrated vision of the impacts of tourism to build territorial and regional development strategies
Panel 3 – From the identification to the implementation of innovative management and planning strategies to reduce the impacts of tourism in the Mediterranean region.
A completare il programma anche una tavola rotonda con alcuni rappresentanti di alo profilo dal titolo "When is tourism really welcome? Political and economic solutions to make tourism sustainable". 
Il Segretariato dell'Euroregione, in qualità di partner del progetto BleuTourMed, modererà il pannel n. 3.
Per maggiori informazioni consultare: project website
La registrazione è aperta fino al 20 maggio 2018.