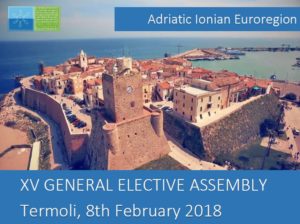 The Adriatic Ionian Euroregion announced the XV General Elective Assembly which will take place in Termoli, Italy on 8 February 2018 from 11.30 to 13.30 hosted by Molise Region.
The Assembly will focus on statutory issues and the renewal of the AIE bodies. It will close a two-days event organized by Molise Region on 7-8 February on different themes such as cooperation projects, EUSAIR, Future of Cohesion Policy and European Territorial Cooperation.
>>> Agenda and Invitation to the members are available here
>>> Members of the Euroregion can confirm the participation filling the registration form
>>>Meeting venue and information on how to get to Termoli: available here
>>>Agenda of two days event organised by Molise Region: available here
>>> List of working documents: available here
Working documents will be distributed to members via email only.
Other information:
>>> Download here the current composition of the AIE Bodies for 2016-2017: AIE bodies 2016_2017
>>> Download here the current composition of the AIE Executive Committee: download here
>>> Download here the Save the date