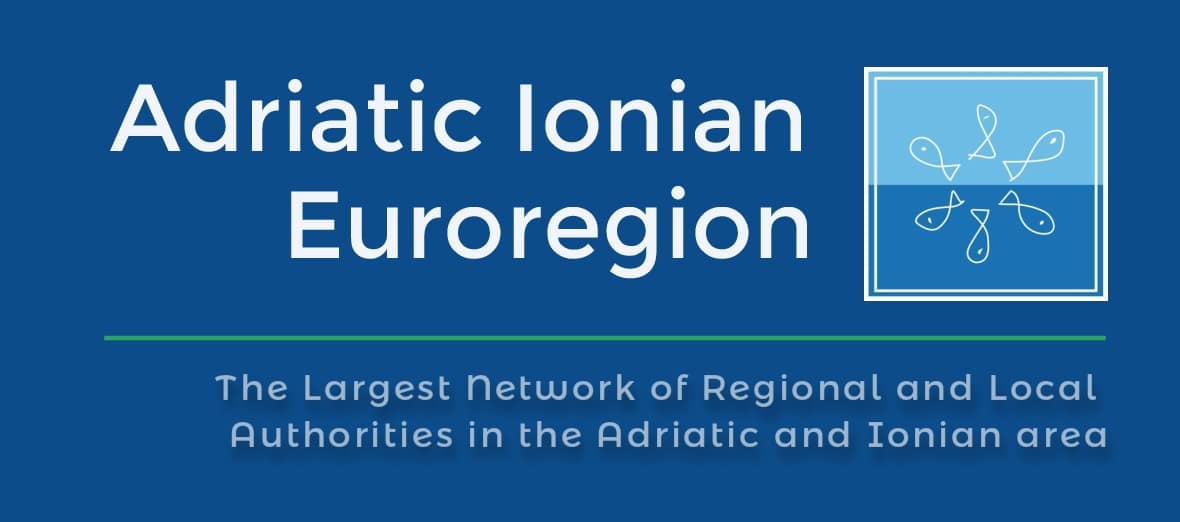 L'Euroregione Adriatico Ionica (EAI) è un'associazione internazionale fondata il 30 giugno 2006 a Pola (Croazia) per la promozione della cooperazione transnazionale e interregionale tra le regioni e gli enti locali del bacino adriatico ionico.
L'associazione conta 33 membri (autorità regionali e locali provenienti da Italia, Croazia, Grecia, Bosnia-Erzegovina, Montenegro e Albania). Tutti i membri sono unità territoriali auto governative e la maggior parte di loro sono NUTS2 (il primo livello al di sotto dello Stato, in conformità alle nomenclatura NUTS della Comunità Europea, e con l'organizzazione amministrativa di ogni paese). L'estensione totale dei territori coinvolti è circa 200.000 chilometri quadrati con una popolazione stimata di circa 20 milioni di abitanti.
L'EAI rappresenta un modello per la cooperazione transfrontaliera e la cooperazione interregionale finalizzato a promuovere uno sviluppo coordinato e integrato tra le regioni della zona. Dal 2006, l'EAI si è impegnata a garantire gli interessi dei suoi membri e lo sviluppo comune di tutta la zona. Inoltre, l'associazione sostiene i membri, in particolare quelli coinvolti nel processo di adesione europea, nel creare iniziative comuni e nel preparare gli attori regionali ad essere qualificati nell'attuazione della politica di coesione e con gli strumenti finanziari europei.
>>> DOWNLOAD ORGANISATION PROFILE <<<
OBIETTIVI
---
Gli obiettivi dell'EAI possono essere sintetizzati nella tutela del patrimonio culturale, la tutela dell'ambiente, lo sviluppo economico sostenibile nel settore delle piccole e medie imprese, il turismo, la pesca, i trasporti e le infrastrutture. Un altro obiettivo importante è quello di sostenere la cittadinanza europea attraverso azioni volte a promuove la partecipazione dei cittadini, sviluppando il loro senso di identità europea e apprezzando il multilinguismo e il multiculturalismo come patrimonio comune europeo.
Secondo lo statuto, l'EAI persegue i seguenti obiettivi:
stabilire e sviluppare rapporti reciproci fra gli abitanti e le istituzioni di questo territorio come presupposto per il miglioramento delle conoscenze, della comprensione e della collaborazione;

creare le condizioni per lo sviluppo economico nel rispetto dell'ambiente;

determinare interessi comuni e la preparazione, la definizione e l'armonizzazione di una strategia di sviluppo comune;

ottenere programmi di scambio culturale;

garantire le condizioni per un effettivo scambio di esperienze e per l'attuazione dei programmi comunitari.
STORIA
---
Nei primi anni del 2000, l'iniziativa di creare l'Euroregione Adriatica è stato lanciata dal Congresso dei poteri locali e regionali  del Consiglio d'Europa (CPLRE) con il sostegno dell'Istria e della Regione Molise. Diversi eventi e conferenze preparatorie, tenuti nei diversi paesi (come la Conferenza di Termoli 8-9 novembre 2004 e di Venezia il 6 febbraio 2006), hanno posto le basi per la costituzione politica dell'Euroregione.
L'idea di lanciare una collaborazione concreta tra le autorità regionali e locali dell'Adriatico è divenuta realtà con la prima Assemblea – il Consiglio dell'Euroregione Adriatica – tenutasi a Pola il 30 giugno 2006. L'evento ha visto la partecipazione di numerosi rappresentanti politici degli Stati membri, così come, del Consiglio d'Europa, del Comitato delle Regioni, del Presidente della Repubblica di Croazia, del Presidente della Repubblica di Bosnia-Erzegovina e dal Vice Ministro italiano degli Affari Esteri.
Negli ultimi anni, l'Euroregione Adriatica cambia il suo nome in Euroregione Adriatico Ionica (EAI). L'associazione è stata impegnata in diverse attività  con commissioni tematiche e l'organizzazione di diversi eventi, come riunioni statutarie, conferenze, workshop tematico e corsi di formazione. L'associazione ha seguito fin dall'inizio il processo EUSAIR, la strategia dell'Unione europea per la regione adriatico-ionica, spingendo l'adozione della strategia con le istituzioni europee e con gli Stati membri e fornendo contributi chiave per il processo di consultazione.
CRONOLOGIA DELL'ASSOCIAZIONE ED EVENTI PRINCIPALI
---
From 2000 – 2004
Preparatory Meetings, Conferences and jointly declaration (Declaration o Pula)
2006
Foundation of the association on 30th June, Pula (Croatia), 1st Constitution Assembly

2nd General Assembly, 22nd November, Ancona (Italy)
2007
Approval of Adri.Eur.O.P. Interreg IIIA project to support start up phase of the Euroregion

Constitution of the Thematic Commissions, 16th – 17th April 2007, Brijuni Islands (Croatia)

Official opening of the Brussels Delegation Office, 17th June, Brussels (Belgium)

3rd General Assembly, 21st September, Shkoder (Albania)

Commission working meeting, 3rd and 4th December, Venice (Italy)
2008
Meeting with the European Commissioner for Regional Policy, Ms Danuta Hübner, 22nd January, Brussels (Belgium)

Presentation of the association at the Congress of Local and Regional authorities of the Council of Europe, 29th May, Strasbourg

Meeting of the Thematic Commissions and Executive Committee, 12-13 June, Dubrovnik (Croatia)

4th General Assembly, 25-26 September Ferrara (Italy);
2009
5th General Elective Assembly and Declaration for the promotion of the adoption of the Strategy for the Adriatic, 22 October, Split (Croatia)
2010
Conference at the Committee of the Regions "Initiative for the Creation of an Adriatic Strategy – A contribution to the European Integration" and "Defining competences and skills of public managers of the Adriatic Euroregion", 24th – 26th February, Brussels (Belgium)
2011
6th General Assembly, 30th June, Campobasso (Italy)
2012
Executive Committee, 23 January, Dubrovnik (Croatia)

7th General Assembly, 13th June, Trieste (Italy)

Meeting with Adriatic Fora, 24th July, Termoli (Italy)

Open Days – Round Table "Adriatic-Ionian Macro-Region for an idea of development and competitiveness which affects about 25 million people", 10 October, Brussels (Belgium)

Approval of AdriGov, a project co-financed by the IPA Adriatic CBC Programme aimed to support the Thematic Commissions of the Euroregion.
2013
8th General Assembly and Round Table "The new EU Strategy for the Adriatic-Ionian Macroregion" – 14-15 January, Termoli (Italy)

The association changes its statutiory name form Adriatic Euroregion to Adriatic Ionian Euroregion, January

Thematic Sessions on Maritime Strategy – Commission Environment, 6/7 March, Bologna (Italy)

Conference "The role of regional authorities in the promotion of European citizenship", 18 April, Pula (Croatia)

Executive Committee, 08 May, Rijeka (Croatia)

Commission on Transport and Infrastructure, 08 May, Rijeka (Croatia)

Opening of the Center for EU and International Cooperation in Istria, 9 May, Bale (Croatia)

Seminar and Thematic Session on Youth, Training and Employment, 27/28 May, Sarajevo (BiH)

Celebration of Croatia's Accession to the EU, 01 July, Pula (Croatia)

Thematic Committee on Tourism and Culture and Workshop "Towards the Adriatic Ionian Macroregion: policies and tools for boosting territorial tourism attractiveness", 25-26 September, Bari (Italy)

Open Days, 09 October, Brussels (Belgium)

Commission on Transport and Infrastructure, 6-7 November, Shkodra (Albania)

9th General Assembly, 4 December, Bologna (Italy)
2014
Workshop "The Albanian Regions as the important part of AIE and the EUSAIR policy", 26 February, Shkodër (Albania)

Thematic Commission and Workshop on Transport and Infrastructure, 4 April, Rijeka (Croatia)

WORKSHOP – "SMEs and FDI development, Comparative analysis in IPA Countries" and Commission for Economic Affairs , 13/14 May, Podgorica (Montenegro)

Thematic Committees on Environment and AIE Thematic Committees on Welfare, 27 May, Bologna (Italy)

Conference "EUSAIR and synergies with the EU Direct Funding Programmes", 26 June, Brussels (Belgium)

Conference "EUSAIR: The Role of the Regions in implementation" in the frame of OPEN DAYS, 7 October, Brussels (Belgium)

Seminar "What future for Fisheries in the A-I Basin" and Meeting of the AIE Committee on Fisheries, 29/30 October, Termoli (Italy)

Conference "The Role of the Youth Guarantee in the Implementation of the Structural Programmes 2014-20", 28 November, Campobasso (Italy)
2015
10th General Assembly of the Adriatic Ionian Euroregion", 14 January, Rome (Italy)

Round table on the Adrion Programme with the Managing Authorities of the main ETC programmes of the area, 20 March, Venafro (Italy)

Commission for Economic Affairs and workshop "Women and the young community unexploited potentials in Montenegrin economy", 25 March, Kotor (Montenegro)

Conference "The European Union Strategy for the Adriatic and Ionian Region: challenges and opportunities for the Balkans in the future", 15 May, Tirana (Albania)

Conference "Targeting integration and development policies in the Adriatic and Ionian Region: Balkans 2020 toolkits", 25 May Campobasso (Italy)

Thematic Commission on Fisheries and Aquaculture "Joint planning for the sustainable fisheries and aquaculture development at macro-regional level: new challenges and perspectives" and Workshop "Fisheries and Aquaculture Management and Development in compliance with EU planning and Macro-regional Strategy", 22-26 July, Ioannina (Greece)

11th Extraordinary Plenary Assembly and workshop "Promotional Laboratory of the Adriatic-Ionian School of political and administrative studies" organised by Emilia Romagna in Milan in the frame of EXPO, 21/22 September, Milan (Italy)

XII General elective assembly of the AIE Round Table at European Parliament "Build up the new Europe with the Macro-regional Strategies: the EUSAIR experience", 2 December, Brussels (Belgium)
2016
Meeting of the Presidency Bureau of the Adriatic Ionian Euroregion and Conference "Connecting the Adriatic area, the TEN-T network: from political project to implementation", 15 January, Pescara (Italy)
Executive Committee, 10 February, Brussels (Belgium)
Conference "Women Commitment for Sustainable Partnership in the perspective of EUSAIR development" 10 March 2016, Shkodër, Albania
Thematic session and workshop on fisheries and aquaculture, Ioannina, 15-17 March 2016
Presidency Bureau and Conference: "Agro Tourism Development: a Tool for the Social Economic Growth of our Adriatic Ionian Regions", 26 April, Tirana (Albania)
Conference "The territorial cooperation in the Adriatic-Ionian macroregion and EUSAIR Strategy. Opportunities, Competitiveness and Connectivity", 27 April, Shkoder (Albania)
"4PILLARS: FOR PROMOTING AN INNOVATIVE MULTI-LEVEL GOVERNANCE SYSTEM OF EUSAIR"- Brussels, 3rd May 2016
Conference: "Adrigov Multilevel Governance as a policy driver fostering the UE Strategy for the Adriatic and Ionian Region" – Campobasso, 30th May 2016
"4 PILLARS project:  pre-steering Committee" – Campobasso, 30th May 2016
Press Conference to announce the Extraordinary Assembly for the 10th Anniversary Celebration of the Association" – Brussels, 16th June 2016
Final meeting of CLAVET Project – Malaga, 1st July 2016
10th Anniversary of the AIE and XIII Extraordinary Assembly – Pula, 2nd  July  2016
Adriatic Ionian Euroregion meets the President of Croatia, Zagreb, 11 July 2016
Executive Committee, Brussels, 11th October 2016
The 14th European Week of Regions and Cities (OPEN DAYS), Brussels, 10/13 October 2016
"CITIZENS' DIALOGUE: REFLECTING ON THE EU – from the perspective of Cities and Region" and Conference: "The role of the EU Strategy for the Adriatic and Ionian Regions (EUSAIR) in increasing prosperity and security in Europe" – Dubrovnik, 28th October 2016
"4PILLARS Meeting and Conference on "Eco-sustainable development and clean, the opportunity and the ability to create a transnational district in agro-industrial sector in northern Albania" – Skhoder, 17th November 2016
"4 PILLARS Project: "Communicate EUSAIR" International Final Conference of the project – Campobasso, 24th November 2016
2017
XIV General Assembly, 27th of March 2017, Dubrovnik (Croatia)
Executive Committee, 12th July, Brussels (BE)
2018
XV General Elective Assembly, 8th February 2018, Termoli (Italy)