Il 27 e il 28 marzo 2019, circa novanta partecipanti della comunità del turismo sostenibile MED, si sono incontrati a Spalato per il workshop #2 della "MED Sustainable Tourism Community" organizzato dall'Euroregione Adriatico Ionica nell'ambito del progetto BleuTourMed_C3. 
Divisi in quattro gruppi di lavoro tematici, i rappresentanti dei 17 progetti della Comunità hanno proseguito i lavori avviati a Marsiglia in vista della Conferenza "Mediterranean Sustainable Tourism Convention 2019" che si terrà il 5 e il 7 giugno 2019 a Barcellona.
I progetti della Comunità per il turismo sostenibile MED si sono riuniti a Spalato per lavorare insieme alla stesura delle policy recommendations e per proseguire i lavori avviati a Marsiglia, lo scorso 20-21 novembre 2018.
Alcuni membri dell'AIE (Regione Puglia, Regione Emilia Romagna, Contea Primorje-Gorski Kotar, Contea di Spalato e Dalmazia e Regione Dubrovnik-Neretva) hanno partecipato ai workshop in qualità di partner partecipanti ai progetti modulari MED dando il loro contributo alla riuscita dell'evento.
La sessione è stata aperta da Luka Brčić, Vicepresidente della Contea di Spalato e Dalmazia, che ha accolto il pubblico e sottolineato l'importanza del turismo in Croazia e nella regione mediterranea e ha fortemente incoraggiato le azioni attuate dalla comunità del turismo sostenibile MED. Successivamente, Francesco Cocco, Segretario Generale della Regione Adriatico Ionica, ha preso la parola per ringraziare la comunità di progetti per la loro partecipazione e per il loro importante contributo.
Dopo la sessione di apertura, tre progetti che hanno aderito alla comunità nel febbraio 2018 hanno presentato le loro attività progettuali. Konstantina Spyropoulou ha presentato il progetto INHERIT seguito da Ernesto Lopez che ha presentato le attività e gli obiettivi del progetto HERIT-DATA. La sessione è stata chiusa da Antonija Odak che ha presentato le sinergie e gli obiettivi di COASTING, un progetto di capitalizzazione basato sul principio della Gestione integrata Costiera e Marittima, volto a migliorare l'efficacia di uno strumento di governance multilivello.
Lydwine La Fontaine, project officer del Segretariato del Programma Interreg MED, ha presentato la strategia generale del Programma per gli anni a venire congratulandosi con i membri della Comunità del Turismo Sostenibile MED per i risultati raggiunti e le sinergie sviluppate all'interno della Comunità e tra le diverse comunità tematiche MED negli ultimi due anni.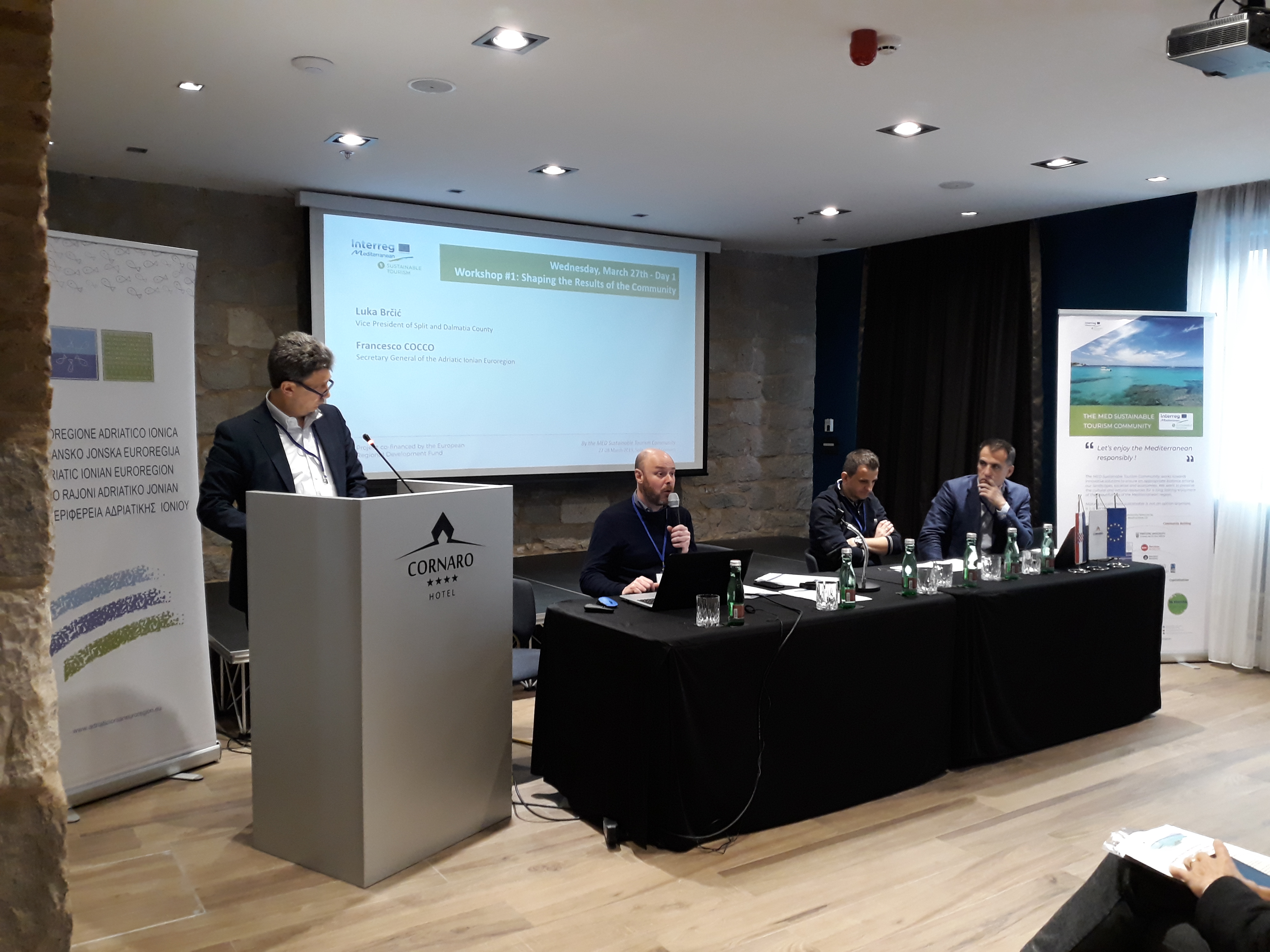 I lavori sono proseguiti con il "Worskshop n. 1: Finalising the Policy Factsheets", moderato dai partner del progetto BleuTourMed_c3. I 17 progetti di cooperazione territoriale della Comunità hanno discusso su come meglio presentare le loro azioni e risultati durante la conferenza finale della Comunità, il 5 e 6 giugno, a Barcellona. Presenteranno, inoltre, le differenti sinergie create e consolidate tra i diversi progetti e le successive attività capitalizzazione e trasferimento dopo le fasi di testing dei progetti.
Il "Workshop # 2: Finalizing the Policy Factsheets", facilitato dal team Capitalization del progetto BletourMed_c3 con il supporto di quattro esperti esterni, ha avuto come obiettivo la finalizzazione dei "policy fact-sheets" dei quattro gruppi di lavoro. I fact-sheet sono  incentrati sui seguenti sottotemi:
#1 Monitoring Tourism Sustainability
#2 Tourism Multiple impacts: How to reduce the environmental-cultural- social impacts of tourism in the Mediterranean region?
#3 Tourism for sustainable and responsible growth: How can the tourism sector ensure a sustainable and responsible economic growth and prosperity in the Mediterranean region?
#4 Inclusive governance mechanism: How to address the complexity of the tourism sector, including local actors, decision-makers and consumers?
I gruppi di lavoro hanno messo a punto i quattro Policy Factsheet, che contemplano una serie di messaggi di indirizzo politico sul turismo sostenibile. I facsheet verranno presentati nella loro versione definitiva a Barcellona nel corso della Mediterranean Sustainable Tourism Convention 2019 il 5-7 Giugno 2019.
Le presentazioni delle conclusioni del workshop sono disponibili qui. 
La photogallery del seminario è disponibile a questo link. 
La news originale è pubblicata sul sito: MED Sustainable Tourism https://sustainable-tourism.interreg-med.eu